Agri Seeds Exporters Taking The Goodness Of Fennels To Other Nations
Fennel seeds are usually grown in mild climates and these are the green oval or yellowish brown dried aromatic fruit of Foeniculum Vulgate, which is place in the Parsley family.

Due to its unique taste the demand for fennel seeds is high and the fennel seeds exporters and never out of business. Fennel yields are mostly harvested during the months of December to March. The states in Indian which are involved in majority of the fennel seed production are Gujarat, Uttar Pradesh and Rajasthan.

Fennel seeds are good for health, they aid in proper digestion and many people in different countries consume these seeds in the tea form. These seeds are widely used across the world in various cuisines.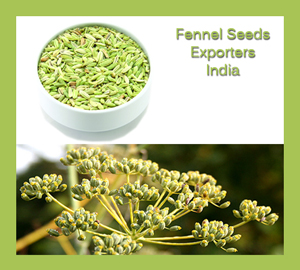 In the ancient times Fennel seeds were used as natural flavoring toothpastes, and they are known to improve vision and boost lactation in women. Fennel seeds are even consumed in the raw form to treat flatulence, to reduce high blood pressure, and bloating.

Due to the above mentioned health benefits and uses, fennel seeds are in high demand internationally. Fennel seeds exporters in India transport these seeds throughout the world in special packages in favor of retaining their aroma and freshness, these special packaging also helps store the fennel seeds for a longer period of time.

Fennel seeds exporters have to excogitate about supplying premium quality fennels seeds which are on par with the international standards. These Fennel seeds exporters are supposed to build a very good rapport with the customers by shipping quality products and providing excellent customer care in furtherance of expanding their business on a global landscape.